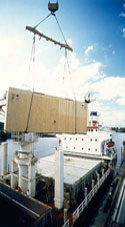 Quick, reliable, professional: at our three berths you will find a perfectly rehearsed team of qualified specialists with the most modern cargo handling technologies on 600 m length of quay.
We are pleased to welcome regularly ships from all over the world and to handle them in the shortest time. All the work required here such as tallying, stevedoring, lashing, securing and distribution works can be offered on request, all from one source. We have a rail connection available, double-tracked on the whole length of the quay.
A powerful place to go
High-performance throughout

We are also assisting with all formalities. From supervising goods through commissioning up to customs clearance – you can rely completely on our experience.